One of the most common questions new members ask is: which broker do you use for trading? The answer is Scandinavian Capital Markets, also known as Scandinavian Markets or SCM.
Scandinavian Markets has over a decade of experience providing trading direct market access to institutional traders, such as collective investments, family offices and proprietary trading firms like Nordic Funder.
While most prop firms use retail brokers, our edge is that we cooperate with a broker that can offer excellent trading conditions and support a high-volume business. Moreover, we are the only funded trader program using Scandinavian Markets, so we aren't assigning our traders and capital to overloaded trading servers. Therefore, we can ensure the highest overall quality possible.
Here is everything you need to know about the trading conditions from Nordic Funder and Scandinavian Markets.
Trading platform
While Scandinavian Markets offers cTrader and MetaTrader 4, our risk management software is currently only integrated with MT4. We are working on launching cTrader in the second half of 2023.
We use the Scandinavian Markets demo MT4 server (ScandinavianMarkets-Demo) for assessments and the live server (ScandinavianMarkets-Live) for funded accounts. When logging in to your Nordic Funder account, please use the correct server name, or else your credentials won't work.
Trading instruments
Via Nordic Funder, you can trade over 70 currency pairs, precious metals such as gold and silver quoted against the US dollar or euro, Brent and West Texas crude oil, indices and cryptocurrencies. Unfortunately, we do not offer stocks.
All symbols are hidden by default when using the Scandinavian Markets MT4 for the first time. To show all symbols, please right-click in the market watch section and click "show all".
Once you can see all the symbols, you will notice that some have a suffix .swd. Only symbols that have the suffix ".swd" are tradable. All the rest are used for conversion calculations, and trading is disabled.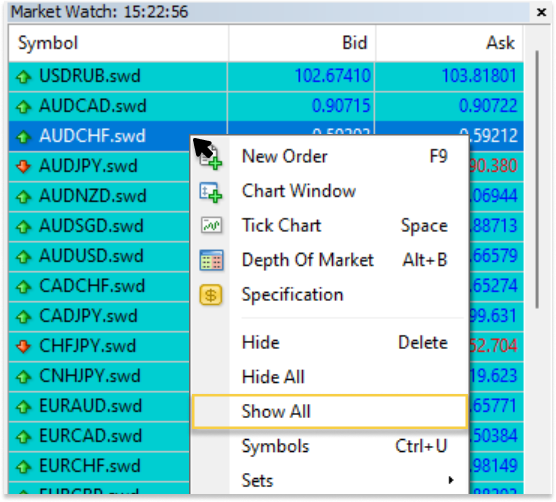 Commissions
Nordic Funder, and therefore you, pay the standard commission of $7 per lot (round turn) on forex and metals. Other products, such as cryptocurrencies and indices, do not have commissions.
Swaps
Swaps are changed when you hold a position overnight. They are a daily adjustment applied for carrying a position to the following day. Swap rates are updated daily according to exchange rate fluctuations and interest rates. You can check the current swap rate of each symbol in MT4 by right-clicking and selecting "specification."
In MT4, swaps are quoted in points, the smallest price increment of a given trading instrument. Suppose the long swap for EURUSD is -15 points (0.00015), and if you're holding a 1 lot (100,000) position, you'll be charged $15.
Leverage
The default leverage provided by Scandinavian Markets is 100:1. Due to our risk management practices, we limit leverage to 10:1 or 20:1, depending on the options you choose when building your account, which means you shall have 10 times or 5 times less leverage.
Therefore, if a product like the US500 index has 100:1 leverage at SCM, you have 10:1 or 20:1, respectively. However, if a product like CHFJPY has 50:1 leverage at SCM, you have 5:1 or 10:1, respectively.
Please be aware that some exotic currencies can have much lower leverage. For example, XPTUSD has 10:1 leverage at SCM, meaning you would have 1:1 or 1:2 leverage in your Nordic Funder account.
Exposure
Another important risk management rule used at Nordic Funder is the max lots rule, which restricts how much exposure you can carry, expressed as lots rather than a notional value. For example, we count 1 lot of EURUSD, GBPUSD and USDCAD as 3 lots, while the notional value could be $110,390 + 125,015 + 100,000.
Lot sizes can be found inside the MT4 contract specifications.
Suppose your max lots limit is 10; you would be limited to 2 lots of EURUSD, 2 lots of XAUUSD, 2 lots of UKOIL, 2 lots of UK100 and 2 lots of US500, which is collectively 10 lots.
Remember that the max number of lots you can open is purely a risk management rule and does not necessarily mean you can open that many lots due to the available margin in your account. You can read more about the max lots rule in the Nordic Funder rule guide.